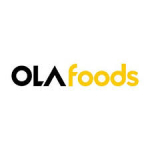 16/09
Aparajita Renwa
Manager - HR at OLA Foods
Views:1332 Applications:406 Rec. Actions:Recruiter Actions:7
OLA Foods - Lead - Revenue & Analytics (5-7 yrs)
Revenue & Analytics Lead
About Ola Foods:

- Ola Foods Business (Earlier Foodpanda) is the foods division of the Ola group. The Ola Group was founded in 2011 is one of the worlds largest mobility and consumer internet companies, with businesses across mobility, food and finance. It has a presence in 250+cities in over 5 countries.

- The vision of the Ola Foods Business is to build India's largest and most loved food brands with an unrelenting focus on quality and hygiene. We know what matters to our customers when it comes to food, and we will make sure that nothing comes between them and a great food experience.

- We are at the fore-front of food technology innovation with state-of-the-art kitchen infrastructure, leading food manufacturing and menu engineering practices and a supremely talented and passionate team of food experts.

- We have a portfolio of brands across Khichdi, Biryani and Rice Bowls across 6 cities with many more exciting food brands in the pipeline.

Objectives :

- Leadership/Supervisory/Support Role : The individual drives performance of revenue analytics to impact overall business results while keeping costs in check and ensuring the department remains within the planned budget. Needs to drive the day-to-day analytical approaches and exploring solutions to particular problems.
- Management and long-term prioritization of the business's overall analytical needs and opportunities. He defines the business questions that need be answered and defines appropriate analytics models in addition to identifying and readying relevant data sources for analysis.

- Revenue Strategy : Lead the revenue team and data warehousing departments in strategy development with regard to the collection, manipulation, and analysis of data for various business functions/departments such as marketing, category, operations, among others.
- He must endeavour to create new data-driven approaches for the purpose of generating business insights through data analytics, information visualization, and addressing unanswered business issues in a proactive manner. Analytics: Develop and apply analytical algorithms and methods where possible with a view of driving and enhancing data systems and streamlining business processes.

- Strive to improve the quality of analytics solutions on a consistent basis. He leads the analytics and warehousing departments in the creation of high quality analyses for all functions of the business and in the definition of metrics that track the businesss performance at different fronts.

Responsibilities:

- Implement Revenue management operations, procedures and best practices.

- Design, implement and improve the analytics function

- Own daily, weekly and monthly reporting.

- Manage pricing strategy and retention strategies.

- Challenge and influence functions to improve service level and operational standards.

- Provide weekly dynamic forecast of expected results, variances and budget comparisons.

Required Qualifications :

- Communication Skills : Excellent communication skills in both written and verbal form are a must have for the Head of Analytics. As a departmental leader, the clarity of his communications down the line will be a major contributing factor to the performance and effectiveness of the junior data analytics team

- More so, communication skills will be necessary in the creation of engaging reports and presentations for management and key stakeholders. These reports must be engaging, clear, concise, and convincing, having been tailored in such a manner that will suit and appeal to the audience at hand.

- Computer Skills/Ms Office/Software: The candidate must also have excellent computer skills and be highly proficient in the use of Ms Word, Ms Excel, PowerPoint, which will all be necessary in the creation of visually and verbally engaging reports, for departmental heads/management and key stakeholders.
Analytics: A candidate for this position must demonstrate a passion for research and data and be highly skilled in performing quantitative analyses on various business functions, for example, on consumer behavior and trends.
- The candidate must also be highly skilled in the use of SQL, being able to draw complex queries that ultimately lead to improvements in business performance. The candidate for this position will additionally have an understanding of A/B testing as well as vast knowledge in the identification of key metrics that measure and drive long-term health of the business.

People Skills : The candidate must also have a natural ability to make strong, lasting, and meaningful connection with others, which will aid him in the execution of his duties in this highly collaborative role. He will be a likeable and relatable individual who is easily approachable, hence, inspiring trust in departmental heads, management, stakeholders, and the team, who will all trust and follow in his insights, directives, and judgments.
Women-friendly workplace:
Maternity and Paternity Benefits
Add a note
Something suspicious?
Report this job posting.