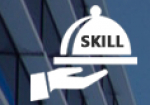 27/02
Priti Goyal
Founder at Serving Skill
Views:1394 Applications:320 Rec. Actions:Recruiter Actions:5
Chief Financial Officer - Attest - CA (12-15 yrs)
Chief Financial Officer - Attest
Work Type:

The work under the assurance division consists of the following :

- Statutory Audit of Companies / Firms / Banks etc.

- Audit of Government Companies appointed by the CAG

- IFRS Convergence

- Group reporting

- US GAAP conversion from Indian GAAP

- Concurrent audit of Banks only large forex and investment divisions only

- BFSI experience Stat, internal and concurrent

- Certification work including remittance certificates

- Tax Audits

- Accounting opinions

- XBRL

- Functions to be performed:

- The execution role of the Assurance Principal would be to finalize the above mentioned audits and reviews. His / Her role will also include:

Operations:

- Quality and timely delivery of all the attest work mentioned above

- Internal SOPs and methodology to be kept updated

- Implementation of auditing and other related standards

- Project monitoring

- Strengthen the technical base of the practice

- Organize seminars and preside as speaker at seminars/ conclaves

- Increase the practice visibility as a member firm in the international network with which the firm has an affiliation

- Release alerts regularly

- Attending/reviewing presentation of the audit committee

- Have complete understanding and exposure of Companies Act 2013, Accounting standards, Auditing standards, Tax laws, IFRS and US GAAP

- Develop other branches of the firm

- Develop a training module for staff and ensure that the same is adhered to

- Organize and undertake all trainings like technical trainings, soft skills trainings etc.

Peer Review:

Final check on:

- quality of delivery; application of service delivery methodologies

Sales and Marketing:

- Aligning firm marketing policy to the service vertical

- Existing client mining

- Cross service vertical client mining

- Developing and maintaining client relationships

- Updating collaterals, flyers, brochures etc

- Developing the domestic and geographic market

- Increase visibility in the domestic and international markets

- Increasing the visibility of the practice within the firm

Administration:

- Planning & Scheduling of engagements and staff

- Engagement profitability

- Billing & Collection

- Preparation of Budgets for the Practices

- Budget V/s Actual comparison and analyze the reasons

- Revision in fees

People Management:

- Staff Appraisals and increments

- Ensure roles and responsibilities are identified for the team and an active role in interviewing and selecting candidates

- Building teams

Employee Retention:

- Review of efficient and effective planning, selection and team management of all resources throughout the year including temporary resource redeployment within team / with other departments,

- Building of team morale and motivate people in the team and firm

- Ensure that open communication channels are maintained within the practice

- Address issues at emotional / infrastructural level at work being faced by teams, take responsibility for team building and motivation of teams

- Identifying training needs of teams and assist in skill building where deficiencies are identified

- Ensure on-boarding and process training happens for new employees

- Perform timely appraisal and provide balance between firm and employee aspirations

- Develop and create leaders within the department

Crisis Management:

- Resolve by providing upfront solutions under engagement / practice crisis situations

Core Competencies:

Commercial Awareness : Able to understand the key business issues that affect profitability and growth of an enterprise and takes appropriate action to maximise success.

Customer Service : Exceeding customer expectations by displaying a total commitment to identifying and providing solutions of the highest possible standards aimed at addressing customer needs.

Diversity : Treats all individuals with respect, responds sensitively to differences and encourages others to do likewise.

Independence : Actions based on own convictions rather than on a desire to please others. Is prepared to challenge others and has the courage to stand up for what they believe to be right.

Interpersonal Sensitivity : Awareness of other people and environment and own impact on these. Actions indicate a consideration for the feelings and needs of others, (but not to be confused with sympathy).

Leading People : Motivates, enables and inspires others to succeed, utilising appropriate styles. Has a clear vision of what is required and acts as a positive role model.

Openness to Change : Proactively supports change and effectively adapts his/her approach to suit changing circumstances or requirements.

Organisational Collaboration : Capacity to perceive the impact and implications of decisions and activities on other parts of the organisation. Actions taken are focussed on the organisation. Working with others towards a common purpose.

People Development: Developing the skills and competencies of subordinates through training and development activities related to current and future jobs.

Strategic Perspective: Takes account of a wide range of longer-term issues, opportunities and contingencies. Identifies the means of implementing plans in line with the vision and direction.

Industry Type :

Accounting, Finance

Functional Area :

Accounts, Finance, Tax, Company Secretary, Audit

To be tailor-fit for the above skillsets, you need to be/have,

Qualified - Chartered Accountant with 9-13 years of post qualification experience in audits with reputed consulting firms.

Total Exp : 12 - 15 Years

- Experience in/exposure to the following areas is essential

- Specialist knowledge of Statutory Audit of Companies / Firms / Banks etc.

- Audit of Government Companies appointed by the CAG

- IFRS Convergence

- Group reporting

- US GAAP conversion from Indian GAAP

- Ability to engage with mid and senior management on clients side;

- Ability to handle dynamic situations and changing client needs;

- Strong analytical skills.

Personal qualities:

- Personality that inspires trust and confidence;

- Collaborative;

- Assertive;

- Strong team player;

- Excellent communication and interpersonal skills;

- Strong service orientation;

- Solution orientated.
Women-friendly workplace:
Maternity and Paternity Benefits
Add a note
Something suspicious?
Report this job posting.