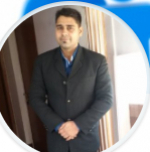 16/04
Sanjay Sharma
Senior Manager - HR at AKNA Management Solutions Pvt. Ltd.
Views:16415 Applications:1916 Rec. Actions:Recruiter Actions:1899
Assistant Brand Manager - FMCG (2-5 yrs)
Assistant Brand Manager - Batch 2017 to 2019

We are in the process of sourcing for An Assistant Brand Manager for the - Notebook Category- for ITC's Stationary & Educational Products Division (Brands - Classmate & Paperkraft) to be based at their Head Office at Chennai.

ABOUT CLASSMATE :

Classmate, by ITC, was launched in 2003 as a complementary notebook brand to Expressions Greeting Cards. By 2007, it grew into INDIA'S NO.1 NOTEBOOK BRAND- . It has since been committed to providing high quality stationery products that are a result of a deep understanding of our consumers, thoughtful ideation, innovative designs and superior craftsmanship! The Classmate range of products includes NOTEBOOKS, PENS (ball, gel, roller and fountain), PENCILS (mechanical and wood-cased), MATHEMATICAL DRAWING INSTRUMENTS, ERASERS, SHARPENERS and ART STATIONERY (wax crayons, colour pencils, sketch pens and oil pastels).

The Classmate philosophy is simple: Everyone is born unique. Classmate stands for the celebration of this uniqueness within every individual to ensure that the seed of originality does not get lost. Classmate encourages its users to nurture their true talent, follow their true calling and become whatever they truly want to be.

Classmate aids in this by offering high quality products that are affordable. After all, in the right hands, a pen can be much more than a pen, and a notebook can be a window to the world. As a partner and friend to children during their most important years, Classmate attempts to create an environment for them to learn and grow in, as they write their own futures, encouraging them to, 'Likho Apna Kal! ' For more details please visit http://www.itcportal.com or http://classmatestationery.com/.

Company: ITC Ltd.

Position: Assistant Brand Manager (Stationery Division)

Reporting To: - Marketing Manager

Location: Chennai, Tamil Nadu.

PURPOSE OF THE JOB:

Assistant brand manager supports the brand manager in operationalizing the brand plan by engaging with key stake holders (sales, operations, supply chain team) to deliver on key elements of planned deliverables. He will play critical role in understanding competitive action, consumer behavior as well as identifying the trends in various markets.

Key Responsibilities :

- Assist in the development of Brand Vision and Strategy

- Operationalize Brand activity plan to Communicate the strategy effectively to the consumers to enhance the saliency, recall and awareness

- Implement the brand plan (ATL+BTL) to ensure that brand objectives are achieved

- Manage external agencies to ensure all brand activity is in line with the requirements of the brief

- Operationalization and execution of planned objective plan by engaging with sales, operations and supply chain team

- Work closely with Trade Marketing and Operations to ensure product and brand activities are correctly managed throughout the supply chain

- Provide product knowledge to the Trade Marketing team to improve selling effort.

- Continuous engagement with consumers and retailers to develop superior understanding of various identified activities

- Gather market intelligence on competitive activity for proactive response as opposed to reacting to competition actions

- Consistent engagement with consumers spread across TG ( through consumer immersions)

- Consistent engagement with retailers spread across geographies ( through market visits)

- Use third party reports to create a cogent case for any intervention

- Innovate existing Products and processes to deliver higher experiences


- Competitive benchmarking for each SKU in the product categories and Employ innovation in products to achieve competitive advantage

- Cost effective BTL activities to improve retail experiences

- To track & control marketing spends for the Brand

- Understand the impact of cost elements on brand profitability

- Ensure adherence of legal, statutory and code of conduct


- Liaison with the Corporate IPR & Legal team on Brand propriety and legal issues.

- Adherence to company code of conduct and Compliance with all statutory and regulatory norms

We are essentially looking at Premier B School 2017 & 2019 pass outs.

Kindly send me an updated copy of your resume in case you wish to apply for the same. We shall connect after having received your resume.

Sanjay Sharma
Senior Manager Resourcing
AKNA Management Solutions Pvt. Ltd.
Mobile: +91-9250003505
Women-friendly workplace:
Maternity and Paternity Benefits
Add a note
Something suspicious?
Report this job posting.