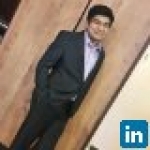 15/07
Vaneet Goyal
VP - Analyst Team at Tracxn Technologies
Views:82928 Applications:9247 Rec. Actions:Recruiter Actions:9191
Tracxn - AVP - Business Operations - Leadership Role - IIT/IIM (3-6 yrs)
About Tracxn
Tracxn (www.tracxn.com) is a Bangalore based product company providing a research and deal sourcing platform for Venture Capital, Private Equity, CorpDev and professionals working around the startup ecosystem.
We are a team of 750+ working professionals serving customers across the globe. Our clients include Funds like Andreessen Horowitz, Accel Partners, NEA; and Large Corporates such as ING, Societe Generale, LG and Royal Bank of
Canada.
Position
We are looking for a motivated and self-driven individual to join as AVP in Business Operations Team. You will lead a team of individuals who will work on initiatives that drive growth and improvements in the existing and/or new departments.
You will define and pick projects and get respective departments on board. You will be responsible for leading these projects and owning their outcomes from start to finish. Your responsibilities will include Design, Execution, Training, Performance Tracking, Making Improvements among other things.
For ex: You may be required to kickstart sales outbound process. Or work with Marketing to get leads from Quora Or help Recruitment team design and run interview scheduling process.
Key Responsibilities:
Understand initiatives & deliverables
- Work with department heads and understand the key initiatives. Understand the potential outcomes the department is trying to achieve through these initiatives
- Define deliverables and get different stakeholders on-board
- Ideate and come up with different possible solutions. Propose the most optimal one.
Design blueprint
- Divide the solution proposed into multiple projects. Prioritise projects on the basis of impact and effort required.
- Break down the projects further into actionable steps.
- Stitch the different steps together to form one comprehensive blueprint for the project
- Seek input from peers to iterate. Present the blueprint to the senior management to get them on-board
Implement
- Define approach for all the actionable steps
- Build required processes with focus on accuracy, efficiency and scalability. Try to automate as much as possible
- Define and set up KPIs to monitor the health of the project
- Prepare implementation guidelines. Identify resources to work with
- Ensure training of personnel involved and identify specific/periodic training programs if need be.
- Solve queries raised by the team. If similar queries are raised frequently incorporate in the implementation guidelines and train the team.
Monitor & handover
- Set up monitoring protocol. Monitor KPIs
- Escalate in case of any non-compliance to set guidelines, agreed Turnaround Time etc.
- Identify issues, modify blueprint and processes related to it which may lead to better outcome.
- Once the processes are stable, handover to respective department head
Build and Manage your team
- Determine hiring budgets and plans for current and future personnel requirements
- Define - Who To Hire- for different positions including work profile & experience, education and salary benchmarks. Work closely with Recruitment Operation team to fill the position
- Identify training needs of each person to reach their peak potential. Employ different training and mentoring methods for different team members, as needed
- Responsible for performance management within the team including appraisals, monthly ratings, discipline, etc
Requirement:
- Top-notch academics from a Tier 1 college (IIM / IIT/ NIT)
- 3-6 years of work experience
- Strong team player. Keen interest in mentoring and grooming team members
- High intent of getting things done.
- Strive for excellence. Strong commitment to improve things every day.
- Ability to take decision based on sound logical arguments. Seek continuous feedback to deliver most optimal solutions
- Exceptional problem solving skills. First principles person.
- Not fixated on any specific department but thrilled to solve new problems every day.
What can you expect at Tracxn?
- Meritocracy Driven, Candid Culture. No Politics.
- Like Minded Intellectually Curious Colleagues.
- Learn to Design System & Processes for High Accuracy, Efficiency and Scalability

- High Paced Learning. Continuous Mentorship to help Achieve Peak Potential
- Learn to Manage Multi-Tier Reporting
Founders:
Neha Singh (ex-Sequoia, BCG | MBA - Stanford GSB)
Abhishek Goyal (ex-Accel Partners, Amazon | BTech - IIT Kanpur)
Women-friendly workplace:
Maternity and Paternity Benefits
Add a note
Something suspicious?
Report this job posting.