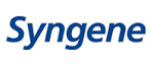 18/01
RD
Recruiter at Syngene International Ltd
Views:1973 Applications:645 Rec. Actions:Recruiter Actions:9
Syngene - Manager - Strategy (3-8 yrs)
Designation: Manager - Strategy

Job Location: Bangalore

Department: Finance

About Syngene :

Incorporated in 1993, Syngene International Ltd. is an innovation-focused global discovery, development and manufacturing organization providing integrated scientific services to the pharmaceutical, biotechnology, nutrition, animal health, consumer goods and specialty chemical industries around the world. Syngene- s clientele includes world leaders such as Bristol-Myers Squibb, Baxter, Amgen, GSK, Merck KGaA and Herbalife. Its innovative culture is driven by the passion of its 4240- strong team of scientists who work with clients from around the world to solve their scientific problems, improve R&D productivity, speed up time to market and lower the cost of innovation.

Job Purpose :

The incumbent will be responsible for strategic thinking, planning and execution of the corporate Strategy.

Key Responsibilities:

- Role shall be responsible for preparing the corporate strategy of Syngene for a 1-3-5-year period. Convert the strategy into multi-year execution plan for each business unit with identified key performance indicators across each Business Unit and function.

- Identify core strategic programs that need to be implemented for achieving the targets including prioritization of initiatives.

- Role will also involve working with various functions like Commercial, HR, Supply Chain to help formulate their respective strategies in line with the overall company strategy and execution plan.

- Track the implementation of Strategy with ongoing trends in the industry and suggest appropriate course corrections.

- Conduct Strategy Board meeting every quarter with Executive Committee to review progress of strategic execution.

- Spot industry trends, shifts and disruptions and put them into perspective with company's strengths and capabilities for creating a dynamic and agile strategic roadmap for Syngene and create a deep organizational understanding of the Contract Research Organisation market opportunities across categories.

- Understand competition platforms, technologies, capabilities and contextualize them for the company.

- Create insights on company's performance and benchmarking with competition to identify areas of competitive advantage, differentiation and growth, areas that needs improvement.

Other responsibilities will include:

- Coordinating with management to research, identify, analyze and execute new business initiatives, including business case preparation.

- Preparing strategic plan and financial model reflecting 1-3-5-year plan and yearly refresh.

Customer and market insights:

- Understanding of R&D budgets of large bio-pharma companies: research allocation, drugs under research, propensity to outsource.

- Mapping out the bio-tech industry and their activities: explore the space and narrow down potential opportunities.


- Jointly build a sales strategy along with the sales function to develop a robust sales pipeline up to next 36 months.

- Develop a market model for estimating demand.

- Run market research to understand customer preferences and estimate Net Promoter Score for Syngene.

- Follow environment, health, and safety (EHS) requirements at all times in the workplace ensuring individual and lab/plant safety.

- Ensure environment, health, and safety (EHS) measures are imparted via training and adhered within the team.

Educational Qualification:

- Candidate should be an MBA from Premier B School or CFA or CA.

Technical/functional Skills:

- Strong analytics and presentation skills with excellent proficiency in Excel and PowerPoint.

- Candidate should have the ability to provide inductive and deductive reasoning.

- Possess the knowledge and exposure to environment, health, and safety (EHS) practices

Experience:

- Candidate should have 3 to 8 years overall experience with experience in Strategy, Planning and Corporate Development and candidate must have an experience of Life Sciences domain.

Behavioral Skills:

- Candidate should possess leadership skills.

- Candidate should possess excellent communication skills with inherent ability to articulate and express complicated matters in simple terms.

- Candidate should have good interpersonal skills with an ability to drive strategic thinking within the company.

- Highly resourceful team player with ability to be extremely effective independently.

- The incumbent will be part of a small team with the requirement to influence across the organization. Hence, influencing skills are very important.

- Demonstrated proactive approach to problem solving with strong decision-making capability.

- Strong organization skills with ability to perform, prioritize multiple task seamlessly with excellent attention to detail.

- Ability to exercise good judgement in various situations with strong written, verbal communication and presentation skills.

- Experience in relevant role in a large corporate or from a reputed company.

Equal Opportunity Employer:

It is the policy of Syngene to provide equal employment opportunity (EEO) to all persons regardless of age, color, national origin, citizenship status, physical or mental disability, race, religion, creed, gender, sex, sexual orientation, gender identity and/or expression, genetic information, marital status, status with regard to public assistance, veteran status, or any other characteristic protected by applicable legislation or local law. In addition, Syngene will provide reasonable accommodations for qualified individuals with disabilities.
Women-friendly workplace:
Maternity and Paternity Benefits
Add a note
Something suspicious?
Report this job posting.