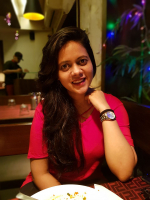 04/09
Sabiha
Chief Research Officer at Crossover Catalyst
Views:205 Applications:60 Rec. Actions:Recruiter Actions:53
Senior Manager/Manager - Marketing - High School Programs (8-12 yrs)
Job Title: Senior Manager/Manager (Marketing) High School Programs

Reports to: Senior Director, High School Programs

Location: Ashoka University Campus, Sonipat/New Delhi (Okhla)

Experience: 8-12 years of functional experience in marketing & communication with reputed organizations in media (TV/print/digital)/higher education/EdTech & online learning platforms/ B2C digital businesses/Marketing, Advertising, digital or social agencies

Nature of work: Full Time

About Ashoka University:

Ashoka University - India's premier interdisciplinary teaching and research university. An institution that has become a beacon of academic excellence in less than 10 years since its inception. At Ashoka, we encourage you to embrace the new, push the boundaries for continuous learning, and adapt to a world of constant change because we believe that each

Ashokan is capable of becoming a thought leader.

As part of our thriving and committed workforce, you will:

Be Mission-Driven: Champion interdisciplinary learning, innovative pedagogy, and academic rigor to transform Indian higher education.

Think Strategically: Collaborate with visionary minds to shape the future of higher education through strategic planning and a forward-thinking approach.

Act Authentically: Embrace authenticity and integrity, fostering an inclusive and supportive environment where every voice is valued.

Take Accountability: Own your work and drive positive change, as an empower individual seeking to make a meaningful contribution.

Build Collaboration: Experience the power of teamwork and diverse perspectives, working collectively towards our shared goals.

Deliver Excellence: Strive for excellence in all aspects, upholding the highest standards of academic excellence, student support, and professional development opportunities.

At Ashoka University, we are on a mission to redefine higher education and create a remarkable space where innovation and collaboration thrive. As a pioneering force in interdisciplinary learning, we continually grow and adapt to stay at the forefront of educational excellence with emphasis on inclusivity and equal opportunity. Our philosophy revolves around care, well-being, and connection, which are deeply embedded in everything we do.

When you join our community, you become part of an extraordinary journey in which you can unleash your potential and make a meaningful impact. Where education empowers, where innovation thrives, and where excellence and humility coexist. We truly believe the world will enrich itself when there is progress with purpose.

About High School Programs:

Ashoka aims to leverage its brand, unique pedagogy, and best practices to build impactful programs for High School Students - both offline and online certificate programs. These include the prestigious Young Scholars Program (YSP), and Ashoka Horizons (online courses) as well as other new programs we launch & develop for this segment. Ashoka for High

Schoolers is in an exciting early growth phase, offering a rich learning and high growth environment for motivated and talented candidates, as we continue to build out exciting & impactful programmes for high schoolers in India and abroad.

- Ashoka Young Scholars Program (YSP), now in its 9th year is already the most prestigious summer program for high school students in the country, attracting talented and motivated students to an enriching & immersive college experience, across it's 5 programs in liberal arts and sciences

- Ashoka Horizons, offers short term, college level, rigorous and innovative online courses to high school students, in India & abroad. Providing curious & motivated high schoolers with a deeper exploration of subjects, 21st century skills and interests. Horizons was launched in 2020 and has been growing exponentially since.

Role and Responsibilities:

The Marketing Manager position plays in critical role in the growth of the High School Programmes. The person is responsible for overall marketing strategy, planning & execution of cross media campaigns across web, digital, database marketing, content, social and events (offline & online) and carries the responsibility for building brand awareness, brand consideration and programme enrollments across the high school programmes portfolio. The role comes with the following responsibilities:

- Mapping the high school market in India (size, structure & growth) and developing rich & actionable insights from the target audiences (high schoolers, parents, educators and counselors). Translating insights into new growth initiatives that significantly contribute to growth.

- Developing a portfolio of relevant, motivating and differentiated programmes/ courses for the target audience

- Developing the annual marketing plans including targets, activity calendar, budgeting & performance metrics across digital, social, email, events and PR

- Internal and external (vendor/ agency) coordination in developing & executing planned activities.

- Ideation, planning & execution of ongoing campaigns and cross media activities to achieve defined targets (measured by applications, registrations and enrolments)

- Measuring and reporting performance of the different marketing campaigns; and assessing the effectiveness against goals. Fine tuning and revising activities real-time to optimize marketing performance.

- Building and nurturing a high-performance marketing team with expertise in digital, social, events and content marketing.

Qualifications:

- Master's degree and/or Degree in Advertising/ Marketing/ Communication from a top tier institution

- 8-12 years of functional experience with media (TV/print/digital), higher education/ EdTech & online learning platforms/ B2C digital businesses/ Marketing, Advertising, or digital/ social agencies. Preference would be given to Ashoka/ YIF/ YSP alumni.

- Demonstrated ability in strategizing, planning & executing growth-driven cross platform campaigns.

- Deep interest in and passion for education, is a pre-requisite to apply for the role.

Skills Required:

- Hands on technical experience in planning & executing cross platform campaigns with demonstratable examples of delivering on targets.

- Deep expertise in digital, social and email campaign development & execution (fb, Insta, LN, Youtube, hubspot, mailchimp etc)

- SEO/SCM expertise desired

- Very strong communication skills (written & verbal English language skills)

- Exceptional creativity and design aesthetics

- Combines strategic, analytical and creative skills effortlessly

- Self-starter (entrepreneurial), result-driven, high performer

- Excellent Excel Skills & Data Analysis Skills

- Interpersonal skills, ability to collaborate and work effectively across different internal & external stakeholders.

Application Submission Process:

We invite you to embark on this journey by submitting your application to Ashoka University's High School Programs Team. To ensure your candidacy receives the attention it deserves, kindly follow the application submission process outlined below:

1. Prepare an Updated CV: Showcase your professional accomplishments, skills, and experiences in an updated curriculum vitae.

2. Submit Your Application and Include Essential Details: Along with your CV, kindly provide the following information:

- Last compensation received: We value your expertise and acknowledge the importance of fair compensation.

- Expected salary: Share your aspirations for growth and remuneration.

- Notice period: Inform us of the time required to transition from your current role, if applicable.

Pursuit for Excellence: At Ashoka University, we strive for excellence in all aspects of our operations. Therefore, only shortlisted candidates will be contacted as part of our rigorous selection process.

We look forward to receiving your application as we embark together on a remarkable journey of professional growth and development. Join our exceptional community at Ashoka University, where excellence is nurtured, and aspirations are transformed into reality.
Women-friendly workplace:
Maternity and Paternity Benefits
Add a note
Something suspicious?
Report this job posting.