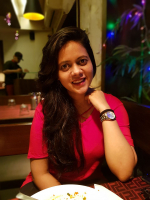 04/01
Sabiha
Chief Research Officer at Crossover Catalyst
Views:402 Applications:117 Rec. Actions:Recruiter Actions:99
Lead - Information Technology - NGO (10-15 yrs)
Lead - Information Technology

About Ummeed :

- Ummeed, a premier non-profit organization for children with disabilities in India, was founded in 2001 by Dr. Vibha Krishnamurthy, a developmental pediatrician. Ummeeds vision is to help children with developmental disabilities reach their full potential and be included in society.

As an organization with about 100 committed professionals, Ummeeds transdisciplinary approach works to :

- Support children with disabilities through direct clinical services and help their families in their journey towards acceptance and empowerment

- Build a network of trained professionals and community workers who can prevent, diagnose, and manage developmental disabilities effectively

- Change societal attitudes so that children with disabilities can be meaningful and productive members

- Over 19 years, Ummeeds transdisciplinary team has directly worked with over 10,000 children and their families, and supported another 2,50,000 indirectly through its trainees from all parts of India.

- Over the last three years, Ummeed has been implementing internal IT systems to be able to better track, manage and analyze its data. This has included Clinic, Training, Human Resources, and Donor Management Systems. For over two years, Ummeed has conducted online trainings (called ECHO clinics) using Zoom.

- Both of the above interventions allowed Ummeed to innovate and adapt rapidly in response to the COVID-19 pandemic. Since the last eight months of the lockdown, Ummeed has been doing all its work clinical sessions, training programs, awareness interventions online.

About the Position :

- The senior managerial position will lead / direct Ummeeds efforts to delineate the Information Technology strategy and execute it, while ensuring that it is aligned to Ummeeds operational requirements and enables Ummeeds strategic outreach initiatives.

- The position is a forward-looking position demanding strategic thinking, awareness of technological trends and of the disability space, and strong execution focus.

The role :

Major responsibilities of the position will include :

- Defining and implementing a scalable strategy, policies and systems/processes to manage and continuously build on Ummeeds digital infrastructure and information assets in accordance with Ummeeds strategic and operational goals

- Collaborating with Ummeeds teams to evaluate, recommend and implement technology-driven options and solutions to best achieve their goals and objectives

- Putting together and tracking an annual IT infrastructure and operations budget and assisting in fund raising for the same

- Overseeing the procurement, installation and operations of computer systems, productivity and collaboration systems, security solutions and organization-wide support utilities/applications

- Implementing optimal solutions to cater to the IT support needs of Ummeed staff

- Hiring and managing information systems personnel and contractors/vendors and/or engaging consultants as required.

Minimum Qualifications, Skills required :

- We are looking for someone who is passionate about working in the social sector and has 10 to 12 years work experience in the IT space within the corporate or social sector.

- Of these, at least 5 years should have been either in a managerial role, with responsibilities to define and implement elements of an organization's IT strategy, or as a senior consultant for IT infrastructure planning and implementation.

- Experience working on health care systems, training/learning management systems will be an advantage.

The person must have :

- Excellent organization and project management skills to plan and coordinate with multiple teams

- Excellent interpersonal skills and oral communication skills to liaise with Ummeed staff, external vendors, and families & children

- Excellent collaboration skills to partner with all of Ummeeds operational teams and support change management

- Great problem-solving skills to deal with problems and find solutions or workarounds

- Initiative to plan, execute, anticipate and report risks

- The above is a full-time position involving 8 hours per day / 40 hours a week.

Why Ummeed?

Ummeed offers :

- A challenging but flexible work environment that offers opportunities for growth and creating impact at scale

- A leadership that invests in its people, giving them the freedom to explore, innovate, learn, while responsibly delivering on committed outcomes

- A strong culture of respecting diversity, being inclusive and committed to serving children with disabilities and their families

- An opportunity to work in collaboration with a diverse group of highly passionate, motivated and talented individuals.
Women-friendly workplace:
Maternity and Paternity Benefits
Add a note
Something suspicious?
Report this job posting.