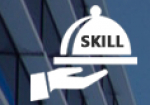 23/09
Priti Goyal
Founder at Serving Skill
Views:283 Applications:39 Rec. Actions:Recruiter Actions:8
Lead Data Visualization Engineer - Insurance (9-16 yrs)
- Professionals in this group apply subject matter knowledge in data development and management platforms and applications. The individuals in this group design and implement high-performance, scalable and optimized data solutions for large enterprise wide data mining and processing. They are responsible for design and development of data flows and Big Data Platform deployment and implementation. Incumbents usually require expert knowledge in Apache, Hadoop, NoSQL databases, Spark, Hive etc.

Key Responsibilities :

Responsibilities :

- Assist in the development of software and platform development roadmap and business plan

- Develop models and structure changes needed to meet the evolving software and data platform strategies

- Formulates the strategy and direction for the requirements process across projects

- Develop programs in Scala and Python as part of data cleaning and processing

- Responsible to design and develop distributed, high volume, high velocity multi-threaded event processing system

- Develop efficient software code for multiple use cases leveraging Python and Big Data technologies for various use cases built on the platform

- Provide high operational excellence guaranteeing high availability and platform stability

- Implement scalable solutions to meet the ever-increasing data volumes, using big data/cloud technologies Pyspark, Kafka, any Cloud computing etc.

- Anticipate and resolve complex problems that impact data design

- Assist in critical technical and design decisions during the development process

- Manage the budget expenditure and allocation across teams and projects

- Propose new operational plans, including targeted budgets, work allocations and staff forecasts

- Monitor and track the team's achievements and key performance indicators

- Develop learning roadmaps to support the professional development of the team

- Design and create visualizations of new high-impact visual applications to make data actionable and facilitate decision making for the clients.

- Understand business and data requirements to support the Predictive/Machine Learning/Big Data Analytics Team and product manager, and iteratively design visualizations for initial concepts and prototypes that can be presented to customers for feedback.

- Manage a repository of re-usable data visualization templates and views.
Specific Authorities( Financial & Non Financial)
NA

Internal

Key Performance :

Indicators :

- Develop and established detailed governance mechanism for robustness of Data Pipeline with resect to schemas, distributions and data completeness and its aligned with stakeholder requirements

- Establish the baselines for the time required for data to be available for analysis by evaluating the system feasibility and operational governance

- Establish broad standards for augmenting and optimizing metrices for data capabilities based on system readiness and for evaluation of functional domain Eg. Velocity, Veracity, Query to report conversion rate and optimal time needed for data to be reported in form of KPIs etc.

- Identify issues in codes or bugs that have entered the production stage

- Drive performance optimization by developing optimized codes (data pipeline) for efficient resource utilization

- Ensure compliance to release deadlines as per stakeholder(both internal and external) timelines

- Design scalable infrastructure to enhance quality, efficiency and competitiveness

Job Requirements:

Qualifications:

- Bachelor's degree in Computer Science, Software Engineering or a related technical discipline

- Knowledge of any of the programming languages: Python, Scala or Java

- Primary Skill: Azure Data Lake Gen2, Azure Data factory v2, Azure Data bricks, Azure DWH, Azure Synapse, Key vault, Azure Active directory

- Microstrategy, Yellow Fin, Informatica, Cognos, SAS

- Knowledge of open source visualization tools like D3js, NVD3js, Raphaeljs, Rickshawjsetcis preferred

- Knowledge of Big Data platforms is preferred.

Experience:

- 7+ years of experience working directly with engineering teams

- 5+ years' full-time experience in Data engineering and Big Data Technologies

- Experience managing projects across cross functional teams, building sustainable processes and coordinating release schedules

- 3+ years of technical program management experience

- Experience driving technical strategy and architecture decisions especially for mid to large scale projects

- Prior experience working on large cross org programs with extensive technical deep dive skills

- Experience with Distributed Versioning Control environments such as GIT

- Experience in development tools - experience on either IntelliJ / Eclipse / VSCode IDE, Build Tool Maven

- Demonstrated experience in modern API platform design including how modern UI s are built consuming services / APIs.

- Experience on Azure cloud including Data Factory, Databricks, Data Lake Storage is highly preferred
Women-friendly workplace:
Maternity and Paternity Benefits
Add a note
Something suspicious?
Report this job posting.