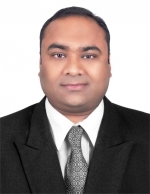 15/07
Biswa Ranjan
Managing Director at Manpower Resources India Pvt. Ltd.
Views:472 Applications:117 Rec. Actions:Recruiter Actions:16
IT Governance Head (15-25 yrs)
Manpower Resources India Pvt. Ltd., a leading Executive Search & Selection Company offers services to Manufacturing, Engineering, Infrastructure & Healthcare domain.

We have been mandated by a large conglomerate for the below mentioned role & we found your skill sets & credentials are quite aligned.

We would like to discuss further to assess your suitability as per your convenience.

Position Name : IT Governance Head

Location : Gujarat

Qualification : Bachelor / Master's Degree in IT

Experience : 12+ Years

Job Objective:

- To define and drive robust IT governance processes and enhance it from time to time to cater to the maturing needs of the organization.

- To oversee ideation, delivery and closure of critical IT projects, ensuring fulfilment of expectations in terms of timelines, budget and quality.

- To cultivate strategic relationships with partners through effective partner engagement accountable for driving operations excellence and policy compliance.

Roles and Responsibilities:

Overall IT Strategy:

- Partner the CIO in understanding organizations strategic intent and accordingly framing the BUs IT vision, mission and strategy.

- Define the strategic objectives, road map and goals for the Governance function keeping in mind the overall IT strategy and present/ future requirements of the business.

- Define strategy for effective branding of IT services and solutions with the internal customers.

IT STRAP:

- Partner with CIO and contribute in identification of the long-term IT needs of the business basis the leadership vision.

- Engage with businesses to understand their requirements and articulate an IT action plan, validate it with the top leadership and determine key BU-wide IT initiatives; Prioritize strategic IT services and solutions and finalize the IT road map for the year.

IT Performance Metrics:

- Establish key performance indicators to effectively measure the overall IT performance; Enable thorough measure of success of IT activities by implementing appropriate frameworks.

Communication Protocols (IT Branding & Reporting):

- Organize events and participate in forums to interact with IT solution providers to gain new perspective on IT governance/ operations excellence and evaluate if new technologies can be introduced at business level.

- Sponsor initiatives to raise awareness about IT services and solutions and communicate its value contribution to the business.

- Prepare, review and validate collaterals pertaining to IT branding like corporate presentations, brochures, catalogues, product materials, employee communication, invites, handouts.

IT Budgeting (Defining Budgets):

- Establish and share guidelines for budget preparation with business; Generate group IT budget by consolidating budgets from each business and budgeting for Group-level initiatives; Consult CIO and seek approval to finalize budget.

- Formulate 'Guidelines and Process' for cost allocation of group led projects among the beneficiary businesses; Discuss, validate and finalize the updated budgets with each business.

Research and Innovation:

- Continually scan the changing technological landscape, study best practices and introduce mature IT governance frameworks/ operational models at the group and business levels.

- Support creation of a centralized repository through which information about IT research and innovation related to governance can be collected, stored & distributed.

Governance Frameworks & Compliance:

- Define IT governance frameworks and establish governance systems, processes and control systems within Adani aligned to the IT vision.

- Continuously monitor and ensure adherence to defined governance protocols; Advise stakeholders as an SME with regards to adherence from governance perspective.

- Track and monitor adherence to defined budgets; Provide guidance or action plan to overcome deviations if any.

- Revisit operations policies/ frameworks in accordance to changing business, technology landscape and regulatory environment.

Data Policy Governance:

- Collaborate with BU Security Head on regulatory and compliance programs related to data and analytics assets.

- Collaborate with the Group Data Management Head to create policies and controls for the appropriate protection of information assets. Protection should encompass a defined information life cycle, from acquisition or creation to end of life destruction and disposal procedures.

- Support the execution of independent audits, as required.

- Measure master data and reference data for compliance to policy, standards and conceptual models and ensure traceability and self-service data cataloguing for enterprise users. Assure the deployment and management of data quality monitoring practices.

SLA Assurance & Quality:


- Track performance metrics, performance frameworks and IT service levels and ensure adherence to defined standards/ SLAs.

- Identify, communicate and report IT service-level/ IS compliance gaps & improvement opportunities; Recommend action plans for improvement and follow-up on implementation.

Committees and Councils:

- Define structure, composition, frequency of meetings and objectives of different governance committees in consultation with CIO.

- Ensure that committees convene as per the prescribed timelines to evaluate the initiatives and projects undertaken; Participate in governance committees to share insights from a governance perspective.

IT Health Check:

- Define the IT Health-check framework required to have uniform level of IT compliance across the organization.

- Determine the reviews frequency, define dipstick check calendar and enlist pre- requisites in accordance with the disestablished guidelines.

- Ensure timely conduct of dipstick checks as per established timelines; Provide support to ensure smooth conduct of audits.

- Review the IT health-check report, analyse findings & conduct dialogue with the concerned stakeholders for action planning and resolution; Ensure prompt closure on dipstick check observations/ non-compliances.

Benchmarks, Standards & Certifications:

- Share the Benchmarks, Standard & Certifications to be achieved/attained by the department/ sub-departments.

- Plan and support the adoption of Benchmarks, Standards & Certifications as per business priority and report to the CIO.

Partner Management and Engagement:


- Collaborate in partner identification, evaluation, selection and contracting processes for critical projects at the BU level.

- Collaborate with the business stakeholders and concerned COEs to articulate the RFP and share it with the identified partners.

- Evaluate IT services partner basis capability, market presence and strength of their commercial proposals.

- Articulate and finalize the contract in concurrence with the CIO, concerned COEs and partner; Define the Scope of Work, project RACI matrix and the SLAs for the project.

- Track partner performance to ensure project delivery basis expected quality, timelines and budgetary considerations; Address instances of non- performances.

- Conduct periodic partner performance reviews basing frequency of review on criticality of projects; Decide on partner bonus or penalty (as applicable) basis the performance review.

IS/ SLA Assurance:

- Establish robust frameworks to define appropriate SLAs, terms and conditions and consequence management for different projects & partner offerings.

- Identify applicable SLA framework and accordingly determine KPIs to comprehensively track different elements of a project.

- Evaluate costs and risks to determine optimum SLAs, terms and conditions and consequences for the project from the organization's perspective.

- Oversee service catalogue as per the changing circumstances/ new developments to maintain contracts at an optimal level for the organization.

Operational Excellence and Review:


- Forefront initiatives to monitor and drive adherence of IT operations to defined protocols, legal and regulatory compliances at group and business level.

- Identify and report IT service level attainment results and highlight improvement opportunities; Sponsor improvement projects with the objective of bridging the gaps identified.

- Drive continuous process improvements for IT operations and benchmark them with industry standards.

- Manage and maintain Governance-specific application inventory in accordance with APM policies; Perform analysis of application inventory & drive inventory optimization.

Customer Feedback:


- Drive business-wide customer feedback collection for the IT services and solutions; Define tools & techniques to capture and analyze customer feedback.

- Analyse customer satisfaction levels and define strategies/ recommend measures to improve customer satisfaction levels based on feedback received.

People Management:

- Drive a performance driven culture - Set goals, review performance and provide feedback so as to ensure a motivated and committed team.

- Develop employee capability and build functional excellence through various learning and development interventions and mentoring initiatives.

- Foster an environment of learning, excellence and innovation within the team and across teams.
This job opening was posted long time back. It may not be active. Nor was it removed by the recruiter. Please use your discretion.
Women-friendly workplace:
Maternity and Paternity Benefits
Add a note
Something suspicious?
Report this job posting.