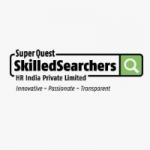 06/06
HR
Head -Recruitment at SuperQuest SkilledSearchers HR India Pvt Ltd
Views:1632 Applications:157 Rec. Actions:Recruiter Actions:39
Digital HR CoE Leader - HR Transformation - Conglomerate (15-26 yrs)
Looking for 'Digital HR CoE Leader' for a leading conglomerate for Mumbai location

Key Result Areas (Key Performance Indicators)

1. Strategize and execute HR related Digital Transformation Programs for various businesses of the organization

KPI: End to End transformation for HR function

KPI: Atleast 10 projects in FY22-23

2. Infuse innovation in HR processes with an objective to improve employee productivity and convenience

3. Prepare an accurate budget for a project after thorough scoping and monitor project with detailed plan

4. Collaborate with the GBS team to improve their processes digitally, specially for AI/ML and RPA projects

5. Maintain the eco-system of partners (large consulting companies, technology consultants, start-ups and universities) to leverage their capabilities for the benefits of the company's HR agenda

6. Create learning programs for HR Digital transformation across the group

7. Execute the Digital Showcases, blogs, videos, training/reskilling, Demos, workouts etc.

8. Be an evangelist and thought leader in HR Digital Transformation and promote Digital Brand internally and externally

KPI: Atleast 4 events and 2 articles/ white paper

Critical Tasks

MANDATORY- KRA's and Key Activities

Person will be responsible for Program Management and HR transformation & own execution of those programs.

1. HR Digital Transformation

- Responsible for creating, implementing and managing the overall company's digital marketing strategy

- Prepare an accurate budget for a project after scoping and monitor project with detailed plan

- Handling employee life cycle from hire to retire in close collaboration with HRSS and TA Partner

- Understand the strategic direction of all the business units & execute the ABP for HR & Digital Cultural Transformation

- Digital learning sessions focused on Digital transformation courses through VILT/ILT methodologies

- Conducted Training Needs Analysis using both structured and informal methods to secure development offerings- continuously reflect business needs

- Executing the road map & strategies to engage their people across the Group to thrive cultural digital transformation through various related intervention like Digital Week/Summit

- Vendor Management: end-to-end process improvement and define probable partners

2. PMO Office Agenda Execution

- Help Execute PMO Office Agenda as Below.

- Help in execution of an entire delivery lifecycle of all projects within the Digital CoE capability.

- Manage the program budget & business case, functional scope, build quality, deployment schedule and operational readiness for all plants in the delivery scope

- Responsible for business case consulting in partnership with Plants Digital Leads.

- Determines, monitors, and reviews all program economics to include benefits across costs, operational budgets, staffing requirements, resources, and risk

- Ensure benefit realization is maximized through accelerated deployment

- Accountable to deliver new solutions following the guidelines and within the roadmap defined by Digital CoE.

- Own the quality assurance in all phases of project delivery till project is successfully transitioned to sustain organization

- Coordinates and aligns the plan & deliverables with cross-functional dependencies within Digital Capability areas, Project Management Services and relevant Towers

- Help Drive Time to Time Digital Transformation Initiatives at a Plant/Function

- Assure Timely & Accurate Reporting of status & finances

- Follow all the processes laid down by the PMO Office.

3. Process transformation - Agile Program/Scrum/Lean

- Execute the Scrum culture in organization by inculcating that as process of execution.

- Assure that all the projects follow scrum methodology driven by Digital organization or by vendor ecosystem for Digital teams for a specific plant.

- Create and roll out the templates, processes, methodology and SOP for Scrum/Agile & "Lean before Digital" way of working.

4. Culture Transformation - Help Drive Create Digitalization Wave and Shared Need

- Execute the Digital Showcases, blogs, videos, training/reskilling, Demos, workouts etc.

- Work with Digital Champions and Digital HO and Plants teams as and when needed in driving Digital Wave.

5. Other Transformation responsibilities

- Find the Industry Digitalization Best Practices and get buy in for POC and implementation.

- Connect and Build a network with the start-ups, universities and other Partner ecosystems in the Digitalization space.

- Evaluate Technologies and Business Cases for the Projects by working across various teams.

- Work closely with Digital PMO leader in helping in leaning the PMO process.

- Project based Decisions in alignment with Digital Leadership

- Decision on skills upgradation and Technology choices along with Digital Leadership

Educational Background and Work Experience

- A bachelor's or master's degree in business administration, preferably in Human Resources. Additional education and/or experience in information and technology disciplines is desirable.

Experience

1. 15+ Years of HR experience, preferably with at least 5 years of experience in IT/Digital-HR projects

2. 5 or more years of Significant work in leading cross-functional teams and enterprise wide programs, operating and influencing effectively across the organization and within complex contexts

3. Experience in HR related innovations and transformations

Competencies

1. Deep understanding of the evolving digital world on both the demand side (how people/companies are using technology) and the supply side (emerging technologies)

2. Strong business acumen, including domain-specific knowledge of the company and its business units

3. Excellent analytical, strategic conceptual thinking and project execution skills

4. Ability to effectively drive people, process and technology change in a dynamic and complex operating environment

5. Excellent oral and written communication skills, including the ability to explain digital concepts and technologies to business leaders, as well as business concepts to technologists

If you find the opening suitable, please reply with your resume.
Women-friendly workplace:
Maternity and Paternity Benefits
Add a note
Something suspicious?
Report this job posting.