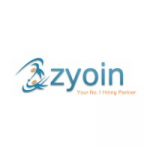 06/12
Rebecca Nadar
Talent Analyst Acquisition at Zyoin
Views:836 Applications:151 Rec. Actions:Recruiter Actions:65
Deputy Manager - Brand Marketing - Internet/Online (1-3 yrs)
Deputy Brand Manager - Brand Marketing
A digital marketing campaign starts with a digital advertisement (creative elements and copy, based on a creative communication idea). The campaign then follows the ad viewer from ad impression to ad click to arrival on the site landing page to filling out the registration form and finally turning into a paid player. This is called the Acquisition Funnel.

1. The Deputy Brand Manager (DBM) will be part of the Brand Team and will play a critical role in creative and communication design for driving new user acquisitions.

2. The DBM will work with Brand Team to understand the Target Audience and consumer insights to create digital communication assets.

3. In today's digital world where consumers have constant access to various mobile devices with different models/operating systems, the design and communication should also complement and be responsive to their choice of platform.

4. The DBM should be extremely creative with skills exposed to understanding the nuances of design principles, color theory, aesthetic appeal and web / mobile optimization using best practices to deliver digital output that works on multiple platforms.

5. DBM will work with in-house graphic designers and web-developers hands-on to

6. produce digital creatives that are interactive and engaging while ensuring digital

7. advertising guidelines are followed.

8. DBM would also work with agencies on creative input for other media campaigns like: videos, print, radio and television.

9. The DBM would be using player behavior data to arrive at effective communication design.

10. These insights feed into the design of new advertisements, new landing pages and even changes to the core product, which would ultimately improve the Acquisition Funnel and improve ROI. The Deputy Brand Manager will undergo on-the-job training with the Brand Team, HTML Team and User Growth Team to ensure a smooth understanding of the position.

Detailed Job Description:

1. DBM would be responsible for building a creative delivery calendar in discussion with User Growth team

2. Creative delivery calendar will include ideating and making digital asset creation like: Digital Banners and Digital Films for Facebook Ads, Landing Pages, Emails, SMS Campaigns, Mobile App Notifications etc.

3. DBM should be well-versed with writing briefs for internal teams and agencies for creative design output by visualizing communication / positioning routes.

4. DBM should be equipped to write ad copies along with the visual imagery as part of the concept note for the design team to guide them in the right direction.

5. DBM will be responsible for providing the final creative output of the creative asset while working with a design team that includes design manager, graphic designer and web-developers.

6. DBM will be responsible for creating and executing new video content, writing scripts

7. DBM would be responsible to research and identifying new communication routes that is backed by data insights and consumer research

8. Along with internal team, DBM will work closely with Production Houses to produce video films

9. DBM will work with consumer research agencies in selected markets

Skillset Requirements:

1. 4 years of experience in digital creative production, research and media planning

2. Well-versed with the digital ecosystem to identify new creative opportunities

3. Creative direction in an advertising agency will be a plus.

4. Previous experience of handling creative agency will be a plus.

5. Understanding of data for creative optimization.

6. Knowledge in video production and creative script writing is a plus

7. Basic knowledge of HTML/HTML5, Photoshop and other design tools.

Role Requirements:

1. Extreme attention to detail.

2. Strong aesthetic sense for highly attractive design.

3. Strong skills in writing copy for actionable outcomes.

4. Excellent communication skills.

5. Strong command over English language (oral and written).

6. Excellent project management skills.

7. And obsession to deliver output with top-notch quality.

8. Shows potential to chase aggressive timeline and accustomed to work pressure
Women-friendly workplace:
Maternity and Paternity Benefits
Add a note
Something suspicious?
Report this job posting.