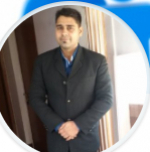 10/04
Sanjay Sharma
Senior Manager - HR at AKNA Management Solutions Pvt. Ltd.
Views:1674 Applications:439 Rec. Actions:Recruiter Actions:434
Assistant Manager - Channel Development - FMCG (2-7 yrs)
We are in the process of sourcing a Asst Manager - Channel Development for ITC Limited's Educational and Stationery Products Business. This is a level 5 position and will report to the Channel Development Manager. Kindly note that ITC maintains batch parity and the selected can be assured of being at par with their batch mates.

The Position will be based at Chennai (Headquarters of Educational and Stationary Products).

About ITC:

ITC is one of India's foremost multi-business enterprise with a market capitalization of US $ 40 billion and a turnover of US $ 8 billion. ITC is rated among the World's Best Big Companies, Asia's 'Fab 50' and the World's Most Reputable Companies by Forbes magazine and as 'India's Most Admired Company' in a survey conducted by Fortune India magazine and Hay Group. For more details please visit http://www.itcportal.com.

ITC also features as one of world's largest sustainable value creator in the consumer goods industry in a study by the Boston Consulting Group. ITC has been listed among India's Most Valuable Companies by Business Today magazine. The Company is among India's '10 Most Valuable (Company) Brands', according to a study conducted by Brand Finance and published by the Economic Times. ITC also ranks among Asia's 50 best performing companies compiled by Business Week.

ABOUT CLASSMATE

Classmate, by ITC, was launched in 2003 as a complementary notebook brand to Expressions Greeting Cards. By 2007, it grew into INDIA'S NO.1 NOTEBOOK BRAND- . It has since been committed to providing high quality stationery products that are a result of a deep understanding of our consumers, thoughtful ideation, innovative designs and superior craftsmanship! The Classmate range of products includes NOTEBOOKS, PENS (ball, gel, roller and fountain), PENCILS (mechanical and wood-cased), MATHEMATICAL DRAWING INSTRUMENTS, ERASERS, SHARPENERS and ART STATIONERY (wax crayons, colour pencils, sketch pens and oil pastels).

The Classmate philosophy is simple: Everyone is born unique. Classmate stands for the celebration of this uniqueness within every individual to ensure that the seed of originality does not get lost. Classmate encourages its users to nurture their true talent, follow their true calling and become whatever they truly want to be.

Classmate aids in this by offering high quality products that are affordable. After all, in the right hands, a pen can be much more than a pen, and a notebook can be a window to the world. As a partner and friend to children during their most important years, Classmate attempts to create an environment for them to learn and grow in, as they write their own futures, encouraging them to, 'Likho Apna Kal! '

For more details please visit http://www.itcportal.com or http://classmatestationery.com/

OVERALL PURPOSE OF THE JOB :

Assist / Support the Channel Development Manager & National Sales Manager in formulation, evaluation of Trade Marketing & Distribution plans for the business and other relevant business processes.

KEY FOCUS AREAS :

- Customer Development

- Field Force Enablement

- Monitor and Drive S&D objectives

- Code of conduct & Statutory regulatory norms

PRINCIPAL ACCOUNTABILITIES :

1. Customer Development

- To coordinate with relevant stake holders on smooth deployment of Customer engagement program

- To coordinate with relevant stake holders on smooth NSA Induction

- Coordinate with District & Branch resources to drive incremental technology adoption

2. Field Force Enablement :

- To coordinate with relevant stake holders for smooth deployment of various solutions like - Sales Kit, Training programs on Product knowledge & Selling skills to enhance WD sales team efficiency

- To coordinate with relevant Stake holders for smooth deployment and implementation of programs for increasing productivity efficiency

- Study competition S&D best practices and provide feedback on all relevant activities on an ongoing basis

- To assist in development and timely deployment of periodic programs on Team Motivation, development, Reward & Induction Program

3. Monitor and Drive Sales &Distribution objectives :

- To be the custodian of all S&D, Trade Research and Productivity related data

- To coordinate with Branches for timely completion of S&D plans and quarterlies - Periodically collate, update and analyze S&D data

- To collate and tabulate trade research reports, Operational & Channel servicing costs for facilitating critical evaluation of performance against set objectives

- To timely publish Dashboards on Productivity, SIFY & HHD Usage, Monthly Trade scheme etc.

4. Code of conduct & Statutory regulatory norms :

- Ensure adherence to the code of conduct

- Ensure confirmation to all financial and administrative systems

- Ensure compliance with all statutory and regulatory norms
Women-friendly workplace:
Maternity and Paternity Benefits
Add a note
Something suspicious?
Report this job posting.